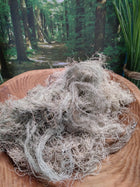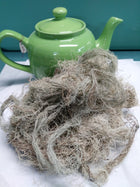 Description
Usnea is a medicinal lichen that sometimes is referred by the name Old Man's Beard. Today it is used in a tincture form because the active compounds in Usnea does not dissolve well in water . The pictures are showing just one ounce of usnea herb. 
According to the NIH.gov...( note .gov! They have been researching this lichen for decades) Here is some of their information
Usnea species have been used as antimicrobial agents in many countries and were being developed as a modern pharmaceutical just prior to the advent of the penicillin antibiotics (4). The crude extracts of usnic acid rich lichens (e.g., Usnea species) have been used throughout the world to treat various ailments, such as pulmonary tuberculosis, pain, fever, wounds, athlete's foot, and other dermal lesions. They have also been used as expectorants, in antibiotic salves, deodorants, and herbal tinctures
(Thus, Usnea species, or purified usnic acid, are currently constituents in a variety of products worldwide. For example, lichen extract and purified usnic acid have been widely used in perfumery, cosmetics, sunscreens, and personal hygiene products such as toothpaste, mouthwash, shampoo, and deodorant. In Germany, pure usnic acid has been formulated and used in cosmetics and pharmaceuticals under the trade names of "Omnigran a, Granobil, and Usnagren A" (24). In Finland, "ramalina thrausta" was used internally to treat sore throat and toothache and externally to treat wounds and athlete's foot (3, 23). In Italy, usnic acid has been used in vaginal creams, foot creams, powders, and shampoo (25). In Argentina, "Barba del la Piedra" (Usnea densirostra) has been sold to treat many ailments (26). In these preparations, usnic acid is employed either as the active principle or has functioned as a preservative. In the United States, Usnea can be obtained in bulk powder or as dried lichen from several herbal supply companies. It is widely available in dietary supplement stores either alone or in combination with other herbs such as Echinacea as tinctures in alcoholic or alcohol-free preparations.