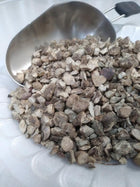 Description
We no longer sell the powder. Stone root now comes in a cut form. This makes a great tincture. Stone root is native to North America. It has many uses because of the resins, tannis, sapons and other compounds. It's main tradition was used for kidney stones, weak kidneys and general edoma. From personal experience, I would not be without this herb
for educational purposes only
This information has not been evaluated by the Food and Drug Administration.
This information is not intended to treat, cure ,diagnose, or prevent disease.
Please be advised: 
Before making any changes to your diet,drugs, habits, exercise routine, snacks or thoughts, you should always consult with your doctor,
especially if you are pregnant, nursing or have existing conditions. Because your doctor is going to know if this herb or spice will benefit you.