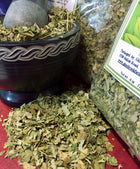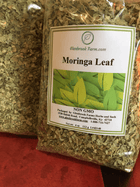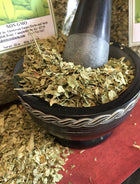 Description
Nourish your body with the certified organic power of Moringa Leaf, the non-GMO miracle tree packed with vital nutrients.
Looking for a Certified Organic source of Moringa Leaf Cut that's non-gmo? Look no further than our selection, sourced from the Miracle Tree itself. This all-natural superfood is packed with essential nutrients like calcium, iron, and protein to support your overall health and wellness goals. Whether you're looking to supplement your diet with added nutrition or simply enjoy the earthy taste of this versatile herb, our Moringa Leaf Cut is the perfect choice. With its potent mix of antioxidants and anti-inflammatory compounds, it's no wonder why so many people turn to Moringa as a nutritional powerhouse that supports everything from immune function to healthy digestion!
Certified Organic Moringa Leaf Cut provides a sustainable source of essential nutrients
Non-GMO Moringa Leaf Cut supports overall health and well-being with its high nutrient content
The Miracle Tree's Moringa Leaf Cut is rich in antioxidants, vitamins, and minerals for optimal nutrition
Incorporating Moringa Leaf Cut into your diet can provide a natural energy boost to power through your day
Certified Organic Moringa Leaf!
Our Moringa leaf comes from India and is non-gmo . Moringa means Miracle tree and this plant has earned the name with it's 92 different nutrients. 
Moringa is very high in protein, calcium, B vitamins, Vitamin C, Vitamin A.
It also contains 46 different antioxidants