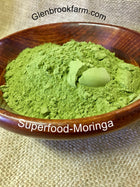 Description
What a wonderful Earth gift we have in Moringa! 
This leaf contains 17 x's more calcium than milk. This is plant-based calcium which is easier to assimilate into the body and be properly utilized. It does not collect in the kidneys like cows milk.
Moringa can have up to 28mg of iron per 100 grams.  This is 25 times more than spinach. ( the fresh leaf does have similar taste as spinach). Again the body is able to absorb and utilize this form of iron much easier.
Moringa also contains high amounts of Copper Manganese, Magnesium, Phosphorus, Potassium, Selenium, Zinc. It also contains many vitamins, fatty acids, non-essential amino acids. 
Here is the really cool thing about moringa, it contains high amounts of Zeatin and Quercetin! These two compounds bring life and vitality to aging skin and slow the aging process. You will notice your skin reversing in the aging process.!! Yes!