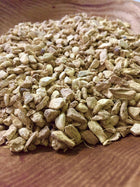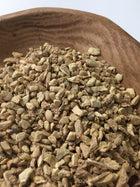 Description
Ginger 
latin name Zingiber officinale
is a very popular warming herb and spice. It promotes circulation and digestion
Ginger is a common treatment for nausea. Ginger is used in easing digestive problems from nausea, morning sickness
motion sickness and nausea from chemo. It is also used to help  detoxify the body since it promotes sweating. This is a good herb to take if you feel a cold coming on,plus it helps to reduce coughing.
Ginger is excellent as a tea, powder, or tincture to treat sluggishness in the digestive tract, digestive upsets, and gas pains. Ginger has a protective effect on the stomach and liver, and is the best spice to use for people with liver and digestive problems. It is possible to make your own "natural" ginger ale.
Make a strong ginger tea using fresh or dried ginger root. Squeeze a quarter slice of lemon into the tea.
Sweeten with your preferred sweeting agent, then add carbonated water at a 50/50 ratio. Put in the frig to get cold.
consume within the next few days