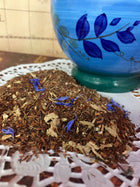 Description
This is one of the richest Chai teas we have found. The bold flavor is a treat.  It is made with rooibos tea which is caffeine free, it can be enjoyed at night. This is not for light weights. It is a hardy bold Chai! This is spicy! 
Rooibos is a very calming herb but mixed with this spice blend, you will be relaxed but very alert.  
Just study the ingredients for a moment and you will be convinced of the extreme health benefits of this tea.
I love it! This tea also makes a great latte!
Ingredients :
Rooibos, ginger, cinnamon, cardamom, black and white pepper, clove, nutmeg cornflowers
"Rainy days should be spent at home with a cup of tea and a good book."  Bill Watterson creator of "Calvin and Hobbs"
Tea lovers want to have flawless products and we want you to have flawless teas!  Reliable high quality is one of the major success factors of our teas.  This is ensured by a long chain of checks and balances.  Our teas adhere to European (EU-ECO-Regulation) and American (NOP) standards is supervised and confirmed by independent supervisory authorities.
To brew Red Teas use a rolling boil of 212 degree, let steep for 5 minutes.