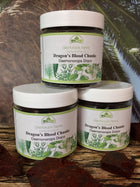 Description
Our Dragon's blood is available in chunks and a powder
Our Dragon's Blood is a fine quality resin. it is a beautiful deep dark red. Dragons Blood is a resin ( sanguis draconis) that comes from a Draco type palm tree.
Dragon's blood has been used for its antiviral activity in wound healing .  One compound found in Dragons Blood is Taspine which helps to reduce inflammation.
Dragons Blood has a sweet soft scent which is why it is popular in incense.
In many religions and rituals Dragon's Blood is used to heal, protect or banish.
Dragons Blood is now  being added to many skin care creams due to it's anti-aging benefits  
 Over 300 compounds have been isolated from Dracaena spp., mainly including flavonoids, steroids, and phenolics. DB exhibits anti-inflammatory, analgesic, antithrombotic, anti-oxidant, antimicrobial, antidiabetic, and anticancer properties, which explain its wound healing effects, preventive effects on cardiovascular and cerebrovascular diseases, dual-directional regulation of blood flow, neuroprotection and radioprotective effects. No apparent side effects or toxicity have been reported. DB are restricted from being exploited due to limited resources (. From NIH.gov study website with permission to publish)