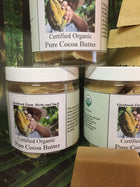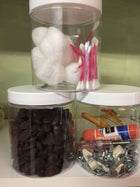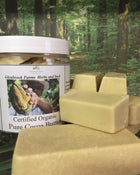 Description
Certified Organic Cocoa Butter
This Certified Organic Cocoa Butter comes from a private estate in the Dominican Republic. This is a family owned operation that grow and process some of the finest chocolate and cocoa butter products. They have earned the USDA certified organic label along with being Kosher certified and non- gmo. 

The 10 ounce jar is BPA free and can be reused for many things, from the workbench to the bathroom to the kitchen

Cocoa butter is a pale-yellow fat extracted from the cocoa bean. It is used to make chocolate, as well as some soaps,  skin care products and salves.  Cocoa butter has a cocoa flavor and scent. 
​It is great to use in a lip balm. Our cocoa butter is pure and prime quality which is hand harvested for sustainability. Since it is in it's natural form you will enjoy the wonderful scent of cocoa!