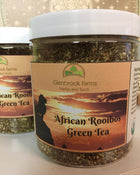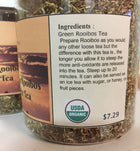 Description
Green Rooibos tea possess the same nutritional properties as regular rooibos except it contains more anti- oxidants.  
Green Rooibos has been proven to help lower cholesterol, and help maintain a healthy blood pressure. It also aids in digestion and has been suggested for colic. Anti-aging!  The anti-oxidants help to destroy the free radical running amuck in your body. It also helps to maintain a stable blood sugar. I have found this to be a very nice tea just before bedtime and is very refreshing as an iced tea.
Green Rooibos also contains alpha-hydroxy acids which is very good for the skin. It is being used in cosmetics.