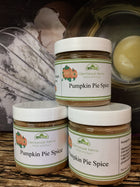 Description
The spice of life 
When the leaves start to change color and the air gets a little crisper, that's when you know it's time to break out the pumpkin pie spice. This versatile blend of spices is perfect for all your fall baking needs. Whether you're making a classic pumpkin pie or getting creative with some pumpkin spice cupcakes, this spice blend will give your treats that delicious fall flavor everyone craves. So stock up now and be prepared for all your autumn baking adventures! 
Pumpkin Pie Spice is a blend of spices typically used in pumpkin pie recipes
The most common spices in Pumpkin Pie Spice are cinnamon, ginger, nutmeg, and cloves
Some variations of Pumpkin Pie Spice also include allspice, mace, and cardamom
Pumpkin Pie Spice can be added to other fallthemed dishes like oatmeal or roasted vegetables for extra flavor
Our Pumpkin Pie Spice  is hand blended in smaller batches which brings you the freshest blend available. This blend is made with cinnamon, ginger, nutmeg, allspice. Gluten Free, Non Gmo, Non -irradiated, No preservatives
Hint: Add some to your pumpkin bread or pumpkin cookies batter!