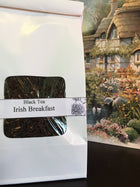 Description
Wake up to the luck of the Irish with a cup of Breakfast Tea!
When you wake up in the morning, there's nothing quite like a cup of Irish Breakfast Tea! This bold blend is sure to give you that extra boost of energy that you need to tackle your day. Its robust flavor and aroma will transport you right back to the rolling hills and countryside of Ireland. Enjoy every sip as if it were brewed straight from Dublin itself! Start your mornings off right with a classic cup of Irish Breakfast Tea
Irish Breakfast Tea is an Irish blend of black tea originating from India and Sri Lanka
It typically contains Assam teas for its robust maltiness, as well as Ceylon teas for a bit of brightness
Serve your traditional Irish breakfast tea with a bit of milk to bring out its flavor even more
This is a traditional blend of premium Ceylon and Assam tea. This is hearty tea to greet the day with, and adding milk to the tea is a a standard  Irish tradition
This blend  produces  a  full bodied, very aromatic malty taste.
Exquisite  long lasting flavor!