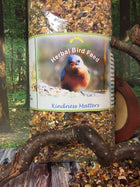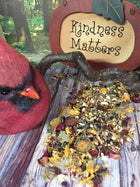 Description
2 lb package
Our bird seed is hand blended is small batches so that freshness is maintained. Bless our feathered backyard friends with this blend called " Kindness Matters".
We feed the birds and in turn they carry seed out and about and replant it for us.

This blend is made of grains and organic herbs and comes in a full 2 lb. package.
This will probably make 50 wedding toss bags also


White Millet: Song Birds love it

Cracked Corn: Crows love it

Wheat: Mourning Dove's like this

Black oil Sunflowers: This is a Cardinal favorite

calendula flower whole: I have watched little wren tear the petals off the flowers

Rose hips whole and cut: Rose hips are full of Biotin which builds strong shells and beaks

Red Clover tops; many minerals and vitamins

Fennel Seed: Fennel contains these nutrients: Calcium Magnesium, Phosphorus, Sodium, Folic-acid, Vitamin C, Potassium

Milk Thistle: A purifier to the system-Birds live in such pollution that they may need a little help

Lemon Balm: Very antiviral

Oregano: antiviral-

Blue Cornflowers: pretty to birds

Hibiscus flowers: another antiviral agent

Hawthorn Berries : the color attracts birds

Elderberries: good for the immune system, plus they redeposit the seed everywhere keeping us in supply of wild elder berries

Milo : birds are not crazy about this but they do eat it if all the choice items are consumed. Good part is they do replant it for us and cows and pigs like it and will eat it . The birds are organic gardeners.