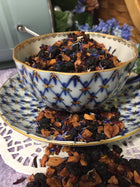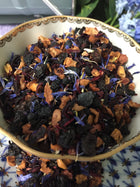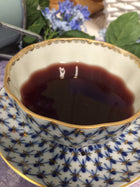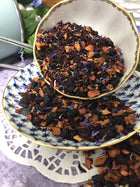 Description
This tea is a refreshing healthy caffeine free tea. It is loaded with antioxidants. This tea is a perfect example that Natural Medicine does not have to taste weird. 
This particular tea was specially formulated to acknowledge the great taste and known health benefits of blueberries. In addition to the antioxidants in the blueberries, hibiscus brings the added benefits of Vitamin A and C to the blend. English Blueberry will accommodate the tastes of people who want to experience a refreshing healthy drink without caffeine. It is excellent hot as a hot drink and simply wonderful as a cold drink. This is yet another great tea for children. You will want to add a pinch of natural cane sugar as this accentuates the natural flavorings and brings out the subtle tastes of the dried berries 
A full flavored tea with superb and well-defined blueberry highlights. Excellent as an iced tea. Note that this tea contains Elderberry, Bilberry , Blueberry the three powerhouse of antioxidants. 
Luxury Ingredients: Hibiscus petals, Apple + Elderberry + Currant pieces, European Blueberries (a.k.a. bilberries), Cornflower petals, American Blueberries, Natural flavors (organic compliant).