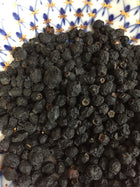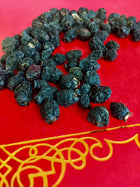 Description
Our bilberries are First grade, new crop and come from Canada. 
Love blueberries? You will love Bilberries .According to some sources, blueberries (Latin: Cyanococcus within the genus Vaccinium) are second only to strawberries in terms of popularity. When it comes to antioxidants however, blueberries and English blueberries or Bilberries are numero uno. In fact, they practically break all records combined. The small blue fruit, despite its diminutive stature is believed to contain more antioxidants than any other commonly consumed fruit or vegetable. If that weren't enough, they're also high in potassium and Vitamin C. These are a true Superfood.

To help you maximize your daily antioxidant count, we've sourced luxury grade air dried blueberry pieces from a supplier known for their sustainable farming practices and environmental integrity. Add them to custom herb and tea blends, or brew them as a tisane on their own, either way, these are Super.