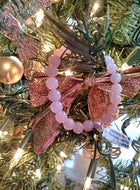 Description
Our Rose Quartz Bead Bracelet is made from 8 mm natural rose quart stone. 
These bracelets make nice gifts, stocking stuffers,and just to remind someone they are special.  
Rose quartz is the heart stone, helping to open the heart charka. A heart that is bruised with childhood trauma, self doubt and worthlessness will benefit from its gentle vibrations.