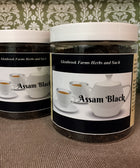 Description
Bukhial Assam tea is wonderful second flush with a mild malty aromatic flavor.  It makes a rich elegant cup of tea.
Bukhial is the largest private tea estate in the world, location in the state of Assam India  by a region called Nagaland
A beautiful cup makes tea very special!